MS Dynamics 365
What is Dynamics 365?
Microsoft Dynamics 365 is a new cloud-focused service that repackages and rebrands what was formerly called Dynamics CRM Online into applications (apps). To put it into context, think about what Microsoft recently did by putting its Office suite online with Office 365? That's what Microsoft is doing now with their line of business software. Microsoft intentionally included "365" in the product suite's name. The reality is that Dynamics 365 is built to work closely with Office 365.

The Dynamics 365 Business Edition is the perfect solution for companies with minimal financial requirements who are looking to grow sales, manage finances and streamline operations with familiar Microsoft tools.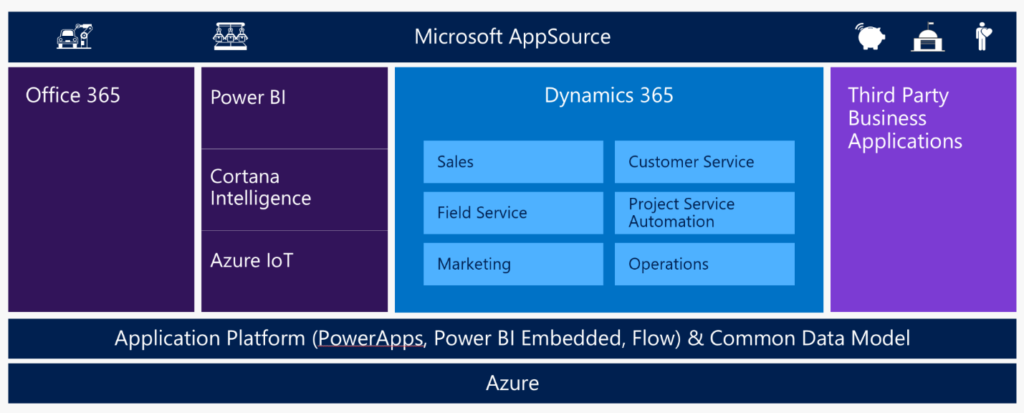 Microsoft combines their top-of-the-line Customer Relationship Manager (CRM)  , Enterprise Resource Planning (ERP), and Business Intelligence (BI) solutions into a single product offering which is all online. The Dynamics 365 Apps are:
Sales

Simplify complex data to learn more about your customers. Automate your sales processes. You'll shorten the sales cycle, boost productivity and reduce your costs. Get a better view of your sales team's performance so you can meet your objectives.
Financials

Get a complete view of your company's financial situation, all from one application. Dynamics 365 make it a lot easier to monitor cash flow, manage inventory and invoice your customers. Stay up to date on your Account Schedules, Budgets, Sales Orders and Vendor Management. When you can have a complete view of your business, you can make better business decisions.
Customer Service

Say goodbye to repetitive content and inaccurate information about your customers. Get a 360-degree view of each client. You'll have a full history of their interactions with your department, plus their personal preferences. For customers who want to do their own research, Dynamics 365 has a self-service portal with a user-friendly knowledge base and online community.
Field Service

Keeping your customers happy and making sure your team is productive is a tall order. Dynamics 365 Field Service will help you be more efficient. Track customer warranties, view repair history and maintenance schedules from one application. You may even manage your inventory from your mobile device. Need a specific technician for a job? Find out who has the right skills with Dynamics 365 for Field Service.
Project Service Automation

Do you struggle to deliver your projects on time and stay within your budget? Project Service Automation makes it easier. Build plans with specially designed templates that can be used again and adjusted for each project. Get a clear view of what stage you're at and who is working on what. Determine at a glance if the project is profitable and will meet the customer's expectations. All project details — from the quote to the invoice — is stored in a single system.
Operations

Change the way you operate your warehouse, transport your company's products and control your inventory. Consolidate your shipments to reduce transportation costs. Give your warehouse managers automated workflow tools so they can respond quickly to changing demands in your business. Manage your workforce and streamline your hiring processes to help reduce errors, saving time and money.

 
Two new apps have also been added, Flow and PowerApps, allowing users to further customize the Dynamics 365 platform.

Flow is a cloud-based service that makes it practical and simple for line-of-business users to build workflows that automate time-consuming business tasks and processes across applications and services.

PowerApps provides a no-code approach to building mobile apps with specific functionality.

 
What are the Benefits of Dynamics 365 for Business?
A list of benefits that a company should consider when evaluating the purchase of Dynamics 365.


1. Say goodbye to siloed operations
Since Dynamics 365 is a cloud-based, seamless application; it removes traditional barriers and helps to create a united front and back office. This means you can control single system and manage all aspects of your business.

2. Only use the apps that you need
With Dynamics 365's modular approach you can use individual apps that work on their own or together. This affords you the flexibility to create the solution that will best fit your needs. When your solution or business needs change and new needs arise, then you can leverage additional applications that will help your business grow. Dynamics 365 is based on AppSource, Microsoft's new app market, where you can easily search and find the apps that you need.

3. See the whole picture, not part of it
Dynamics 365 brings together all types of customer data, allowing you to access critical information at all times. You can also use various KPIs to better understand your customers' journey.

4. Better sales and marketing capabilities
Having a complete view of clients and prospects allows sales and marketing teams to identify sales opportunities which drive revenue. Since Dynamics 365 is accessible on mobile devices, sales teams can easily access the CRM data that they need.

5. Familiar Tools
Let's be honest. The reality is that most people are already familiar with Microsoft productivity applications such as Microsoft Office. Dynamics 365 seamlessly integrates with these well-known applications which creates a lower learning curve and increases user adoption.

6. Your sessions are secure
Dynamics 365 is a cloud-based solution that features industry leading security and access controls for apps and data that are built into the cloud services.

7. Increase productivity
Dynamics 365 provides users with access to both the insights they need to make better-informed decisions and the tools they need to effectively do their work.

8. Subscription Model
The "365" way is providing users with scalable pricing. Dynamics 365 comes with a monthly subscription, which gives you the ability to scale up or down whenever the needs of the business change.

 
The Bottom Line
We are very excited about the direction Dynamics 365 is headed in. With its modular, subscription-based approach Dynamics will help improve the efficiency and productivity of organizations around the world.